Mail2.im is an an online tool that can forward all incoming messages to your IM, email, Twitter or mobile phone. It is an e-mail notification service using which you don't have to miss any of your important mails. It is a very handy application to keep a regular update of all the mails you get.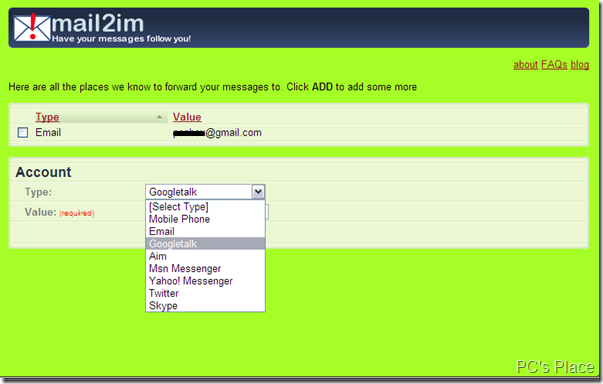 To use Mail2.im you should signup by giving in your e-mail address and activate your account by clicking on activation link. After that go to your account and add your IM, Email, Mobile Phone and Twitter details where you want to get the notifications.
Mail2.im will then provide you with forwarding address which you can give to others. Whenever someone sends a message to that address Mail2.im will first try to deliver it to your IM and if you're not online, it'll forward it to your email, mobile phone and twitter account.
It supports many IM services like Google Talk,Msn messenger, yahoo messenger, Aim and Skype. You can also use Mail2.im to forward messages to other mail2im members. For non members, You can email, IM, text, or twitter to Mail2.im with the person's email ID as the first word of your message and Mail2.im will deliver it.