Creating personalized post cards or photo gift cards has become the flavor of the season. Most of the popular e-cards site provide you with an option to customize your own holiday postcards. But all you can do on the websites is add your images. With the help of this mini work shop, you can learn to personalize your photo card for every occasion, along with the perfect text. In order to make or create your own photo gift cards..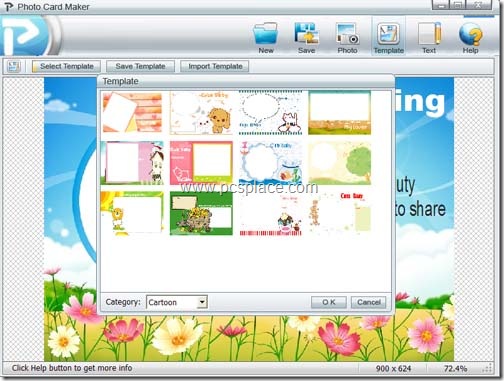 Download Photo-Card-Maker

from this link. by Clicking on "Save File". After downloading, Double-click on "PhotoCardMaker.exe" to install.

Start the application. Click on "Select Template". Select a template through the "Category" drop-down menu. Click on a template in the main window. Click "OK

To change text on the card, click on "Text". You can add new text, change the font face, size and color on your card. You can clear out the text by clicking on "Delete"

You can place personalized images on every template. Click on "Photo". Browse and open the image. Scale it according to your requirement. Click outside the image.

To make changes in the future, click on "Template" and click on "Save Template". Your text elements will be preserved, but your image will be discarded.

To save the card as a *.jpg image, click on the "Save" button. Browse for the location, and type an appropriate file name. Your card is ready to be mailed.